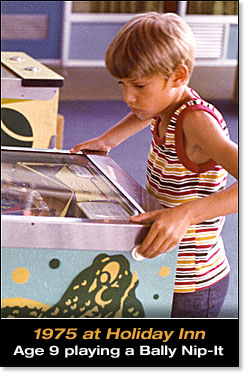 In 2005 I started Pinball Pimp with an absolute passion to restore classic pinball machines back to their original glory and beyond! There were NO reproduction playfields back then and new reproduction parts were very hard to come by. Pinball had not yet "Blown Up" as a hobby, but I sensed the wave was coming. It's been a hell of a ride the last 15 years and I plan to continue if pinball hangs around that long!
I'm no stranger to pinball. From the time I was 8 years old back in 1974, I can remember holding out my hand begging my Mom for quarters to go play one of the pinball machines in the front of Danners 5 & 10 store in Columbus, Indiana. At that age I remember having to stand on wooden stools just so I could get a good view of the playfield, stretching my arms to reach the flippers. Lights, Sounds, Moving Parts, Beautiful Artwork… I was HOOKED! Whenever I saw a pinball machine, I was checking to see if someone left the elusive quarter in the coin return.
Fast forward nearly 50 years later and much is still the same… except now a game of pinball no longer costs a Quarter! "KEEP ON FLIPPIN" Everyone!