Pinball Pimp does all things pinball. Service, Restoration & Repair on all pinball machines by Bally – Williams – Stern – Gottlieb – Data East – SEGA – Capcom. We also work on Solid State and Electro-Mechanical (EMs) machines as well.
Bally & Williams Precision Cut CABINET STENCIL KITS are available for many of the classic machines you see in my Photo Gallery. You can ORDER them at my other site PINBALL PIMP PREMIUM CABINET STENCILS.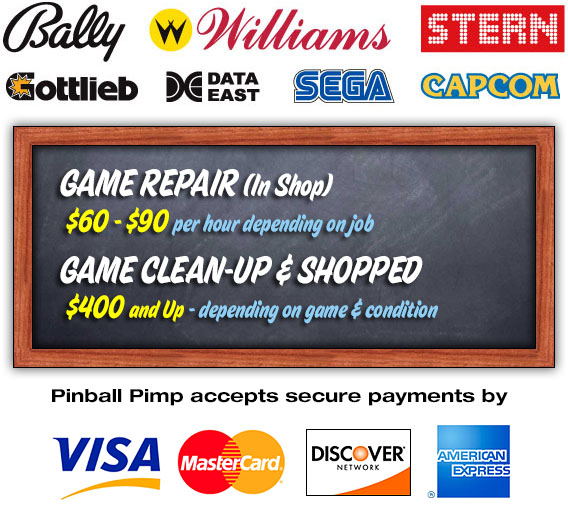 If you need anything done and you don't see it listed, drop me an email at: jeff@pinballpimp.com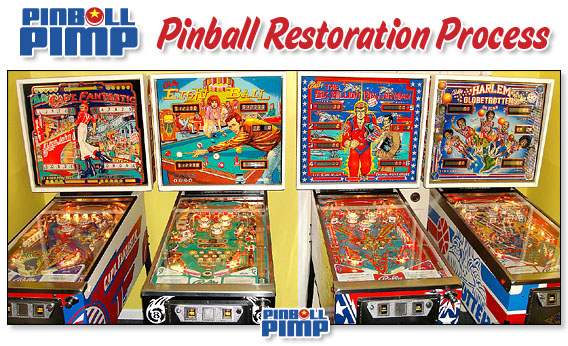 Each machine receives approximately 50-100 hours of restoration work before it heads out the door. Here is some of what we do!
• Remove ALL parts from top of a playfield
• All plastics are removed, cleaned & polished with Novus
• Light inserts are also cleaned from underneath
• All ramps are removed, cleaned & flame polished making them look new!
• Playfield is stripped, cleaned and polished
• Brand new light bulbs, flashers and strobes are installed in the playfield & backbox
• Brand new rubber is installed on the playfield, flippers, posts, slingshots etc
• Flippers, jet bumpers & slingshots are completely rebuilt (if necessary)
• All lamp board PCB's are cleaned, checked and tested
• Power supplies, rectifiers, caps, relays & fuses are replaced (if necessary)
• Cabinet is throughly cleaned inside and out
• Backbox translite or backglass is cleaned both inside and out
• Coin doors are removed and completely disassembled & repainted (if necessary)
• Cabinet is cleaned and touched up (if necessary)
• Brand new polished pinballs are put into the game
• Brand new tempered playfield glass is installed (if requested by client)
• Brand new legs, bolts & levelers are installed on machines
• Game is test and played to make sure it functions properly