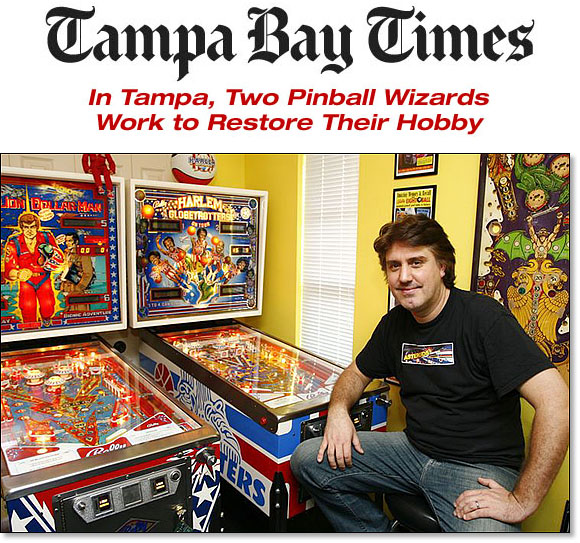 As boys, their biggest challenge was finding the next quarter to play another game at the arcade. As adults, it's finding more space to squeeze another game in their home. They consider music from '80s some of the best ever and don't quite get all the fuss over Xbox and Nintendo Wii.
These guys collect pinball machines and classic video games like others collect cars and neon beer signs. Like the machines themselves, there aren't too many of them around.
Jeff Miller, who finds old machines, many from bars and beer-stained, restores them like new. He spends about 200 hours on each, repainting the cabinets and polishing and replacing parts.
"When people see my stuff they drool" he said.
A graphic artist with a background in woodworking, Miller, 47, has restored about 15 pinball machines and 25 video games in the past five years, most of them from the '70s and '80s. He considers the work more a hobby than a business, although he can earn a few thousand dollars selling each rebuilt machine. He also sells restored machines with 60 classic arcade games in one for about $2,500.
Miller has eight pinball and video games in his game room, including his most treasured, a Captain Fantastic pinball machine by Bally featuring Elton John. It's from 1976 when machines still had electro-mechanical score reels and chimes, and The Who's Pinball Wizard was a jukebox favorite.
Next to it hangs a framed photo of a 10-year-old Miller playing pinball at a Holiday Inn in Jasper, Ind., one of his fondest childhood memories. When friends come over, he blasts The Cars, Duran Duran and other '80s favorites through the built-in speakers. His nickname is "Pinball Pimp."
He remembers standing five kids deep waiting to play Asteroids when Atari first released it in 1979.
"If your name was on the top of the scoreboard, you were like the Asteroid god of my town," he said. "You were really respected."
Fast forward 30 years, and the same applies.
"I've had parties here with two guys on the machine for four hours straight," Miller said.
Pinball and classic game enthusiasts lament that it's become increasingly difficult to find machines at arcades, bars and restaurants — what they call "in the wild" — because the machines are so difficult to maintain. Collectors get their fix by throwing get-togethers in their garages or playing alone at home.
Today most of the remaining machines in public places are showing signs of age. Fewer and fewer people know how to repair them, and many owners figure they aren't worth fixing. They're usually relegated to the back, waiting for a nostalgic child of the '80s to drop a quarter down memory lane.
The Full Article can be seen here at Tampa Bay Times online PINBALL WIZARDS